Improving customer service operations within the insurance sector
Evolving consumer habits have brought about great change for the insurance sector. As a nation we are better connected; we have more communication methods, and more devices available to us. Long gone are the days where businesses are in charge, nowadays, the customer is key. Customers can search for insurance quotes online or via aggregators as well as call, email or visit local branches. Competition is greater than ever before and the need for efficient, effective service delivery is now firmly at the top of any good CEO's agenda.
Logicalware provides customer service operations software, consultation and managed services to improve business processes within the insurance sector, helping make staff and customers happier.
Common customer experience issues facing the insurance & finance sector
Insurance software (e.g. Open GI & Acturis,) doesn't link to customer service software
Without reporting functionality, achieving targets becomes a truly impossible task
Too many manual processes reduce staff morale and lower productivity levels
High workloads can create admin. This can make meeting key deadlines a real challenge
In today's world, businesses run the risk of data loss & are vulnerable to cyber attacks
We are partners with Open GI
Bridging the gap between insurance software and customer service operations
How we improve customer service operations
The built-in reporting tools enable you to view, track and monitor your email and case handling activity as well as the activities of your case handlers, so you can take the appropriate action to iron out any problem areas or indeed reward someone for a job well done.
As our email management system is cloud based, you can rest assured that all data is backed up and stored securely and that any emails from your servers to ours are fully encrypted with our SSL Certificates, if enabled.
Use a broking solution like OpenGI or Acturis? Speak to us about custom integrations to improve your operational efficiency by up to 3 minutes per customer interaction.
Customers may also choose to contact you via Facebook, Twitter. Not a problem, as these enquiries feed into the same system. Your agents can even raise a ticket to deal with telephone requests so there is a single view across all customer enquiries. Businesses need never lose track of a policy application or insurance claim again.
The software lets you set up multiple accounts to route emails to the relevant department and case handler for processing. This capability has proved vital for insurance clients who act as brokers for a variety of leading brand names.
Uncover what would make your team more efficient with our productivity dashboard.
Our software can be used by insurance handlers to deliver quick and efficient responses to customers throughout the policy administration process.
Customers can email requests, documents and any relevant information necessary to fulfil a claim or other business enquiry request.
Prioritise your high-value customers and improve your CX.
The impact we can make
Joined up solution – linking broking solution with customer service software saves agents 3mins per customer interaction
Improved workflow
Better customer operations
Manual processes automated
Unique identifier for each ticket makes for faster response
Spam tickets eliminated
Resourcing made easier
Managers can keep on top of compliance
Better data to impress senior staff
Schedule a chat with our Insurance and Finance Sector specialist.
To request a demo, enquire about a custom integration or to discuss our consultative services – drop us a line!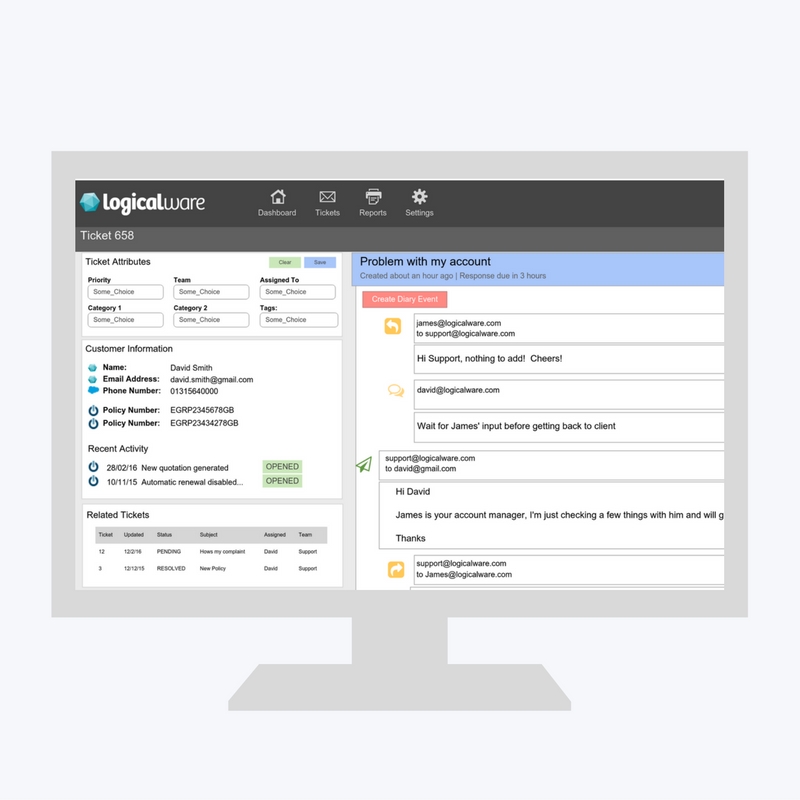 Improving Customer Experience in the Insurance sector.
Download our sales pack to see how we can help you in the insurance and finance sector.